Hydrangea – Water Vessel
Toyama Prefecture
A water vessel made from handblown glass. This is a representation of the concept of "senseware" by "KORAI". It is named after the Greek word which means water vessel. This senseware allows us to feel the wind and the light in our daily living similar to the water bowl which is often placed in a Japanese garden. By filling the vessel with water and setting it by the window, it reflects wavering water ripples on the surface it sits on and creates a pleasant time in tune with the change of nature.
Designed by Shizuka Tatsuno
Made by Takeyoshi Mitsui
Material: Soda-lime Glass
Size: φ180 × H80 mm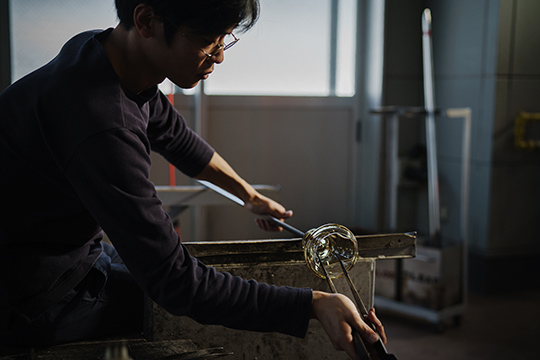 Takeyoshi Mitsui
Glass Artist
Takeyoshi Mitsui (born in 1987) is a glass artist in Toyama prefecture. After graduating from Kurashiki University of Science and the Arts, he worked for Toyama Glass Studio, then became independent in 2016. The features of his works are delicately blown glass and his unique use of colour. His original work entitled "Silence" was first exhibited in 2015 and it received the U35 award at the Japan Crafts Exhibition in 2017.